The Holston's Story
History
The Holston's prestigious history dates back to 1913. Designed by master architect, John Kevan Peebles of Norfolk, Virginia and built by George Fuller Construction Co. of New York, The Holston was the tallest high-rise office building in Knoxville and a champion of Neo-classical architecture.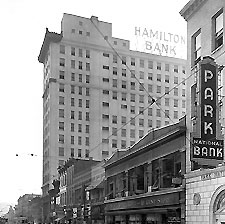 Opening its doors as the Holston National Bank, the building stood 12 stories tall. In 1928, two more floors were added when Holston National merged with Union National to form Holston-Union Bank. At the same time many prestigious businesses and law firms leased space on the upper floors of the building. The Holston-Union closed in late 1930 as the impact of the Wall Street crash took its toll on many banks and businesses.
In April 1931, the Hamilton National Bank was formed in Knoxville, and once more the Holston building was a center for banking and commerce. Hamilton National remained an influential bank in Knoxville until 1975 when it was reorganized as United American Bank.
Once the city's tallest building, it remains a distinctive landmark.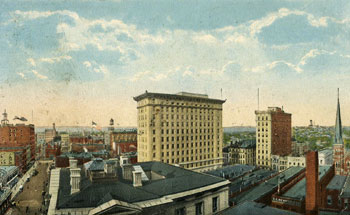 Standing opposite the Farragut Hotel and the Tennessee Theatre, The Holston has defined itself as one of the prominent addresses in downtown Knoxville over the years.
Listed on the National Register of Historic Places, the Holston stands proudly on the corner of Gay Street and Clinch Avenue and is a symbol of both Knoxville's prestigious history and promising future.